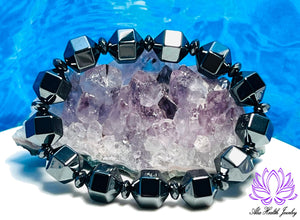 Did you order our Essential Tremor Weighted Bracelet, Parkinson III Lapis Lazuli, or other bracelet and now want more weight?
Here is our Companion Bracelets. Note that they are not to be used alone- not enough weight. Use them with the bracelet YOU ALREADY HAVE.
This for the Companion Bracelet set (2 Bands) for my popular Malachite, Lapis Lazuli, and Parkinson I bracelets.
You will receive TWO, matching bands.  They add approximately 1.3 ounces each, for a total of about 2.6 ounces, depending upon size.
About size: DO NOT SIZE-UP. Many falsely believe that 'If I order the bigger size, I get more weight and will assist me more'.  Not true. A proper weight, that stays in place, works better. If your bracelet 'sloshes' around, is loose, the weight benefits are mostly gone.
If this is your FIRST TIME ordering weighted bracelets, this is NOT for you. See my Set 3: Parkinson II Weighted bracelets, or my Parkinson I series bracelets.
This is for those who already have purchased weighted bracelet(s) and now desire a little more weight.
Note: Tell me in the 'message to seller' section if you have the Malachite (green) or Lapis Lazuli (blue) bracelet.